Product Description
According to PMI (Project Management Institute), "Project Management is the application of knowledge, skills, tools, and techniques to a broad range of activities in order to meet the requirements of a particular project."
Drawing from well-established frameworks like Prince2, PMBOK, PMP, and the likes, EPS Project Management has been developed to provide project teams with a consolidated platform to initiate, manage and successfully deliver projects and programs and ensure their ongoing alignment with the organistional objectives. Every project is a unique endeavor, and project management is often knowing what to apply and when.
There are 5 stages of Project Management within the Department.
1. IDENTIFY: This is the start of the project, and the goal of this phase is to define the project at a broad level and to ensure that there is enough business justification to invest organisational resources in the project.
The project's value proposition is captured in the form of a Concept that outlines the opportunity or the problem succinctly and presents it to the relevant committee to determine whether Concept should proceed to a Business Case or not.

If it is given the green light, you will then need to create a Business Case that outlines the purpose and requirements of the project. It should include business needs, options, stakeholders, benefits, any potential risk(s), the change involved, dependency etc.

NOTE: In some cases, you may be requested to capture a business case instead of a concept. Please contact EPS if you are unsure on how to initiate your project. Seed funding may also be given to develop the Business Case on a case-by-case basis.
2. INITIATE/ PLAN: This phase is key to successful project management and focuses on developing a roadmap that everyone will follow. This phase typically begins with setting goals. Once the business case is approved, the assigned Project Manager updates the project plan before getting the approval and mobilising the project team.
At this time, roles and responsibilities are clearly defined, so everyone involved knows what they are accountable for. Some of the key documents that a PM will create during this stage/phase but not limited to is listed below:
Project Plan

Work Breakdown Schedule (WBS)


Gantt Chart

Communication Plan 

Risk Management Plan 

Training Plan 

Benefits Plan 
3. EXECUTE/ DELIVER: In this stage, the project team focusses on and works towards delivering the end products. A lot of activities happen during this phase/stage which includes status reports and meetings, development updates, communicating with the stakeholders, vendor and resource management, regular quality checks, raising change requests, re-baselining project plan, risk, and issues management as required etc.
A "kick-off" meeting usually marks the start of the Project Execution phase where the teams involved are informed of their responsibilities.
4. CLOSE: This phase/stage represents the completion of a project. In this stage, the final product is reviewed/ verified and handed over to the Business Area after a sign-off from the project sponsor. It is usually followed by an evaluation to identify key benefits, achievements, and failures, and lessons learned for future reference. The project manager is also required to complete the closure report and, in some cases, even complete a post-implementation review in 6-8 weeks post closure.
5. BENEFITS REALISATION: Projects are often considered finished when their deliverables are complete. However, the benefits of a project are typically realised over time. This may leave no one responsible during the realisation phase/stage and often no structure through which to manage this key phase.
Project benefits are defined in a business case and other early-stage project documents such as a concept paper. Project benefits may be traced to project objectives and tracked over the course of a project.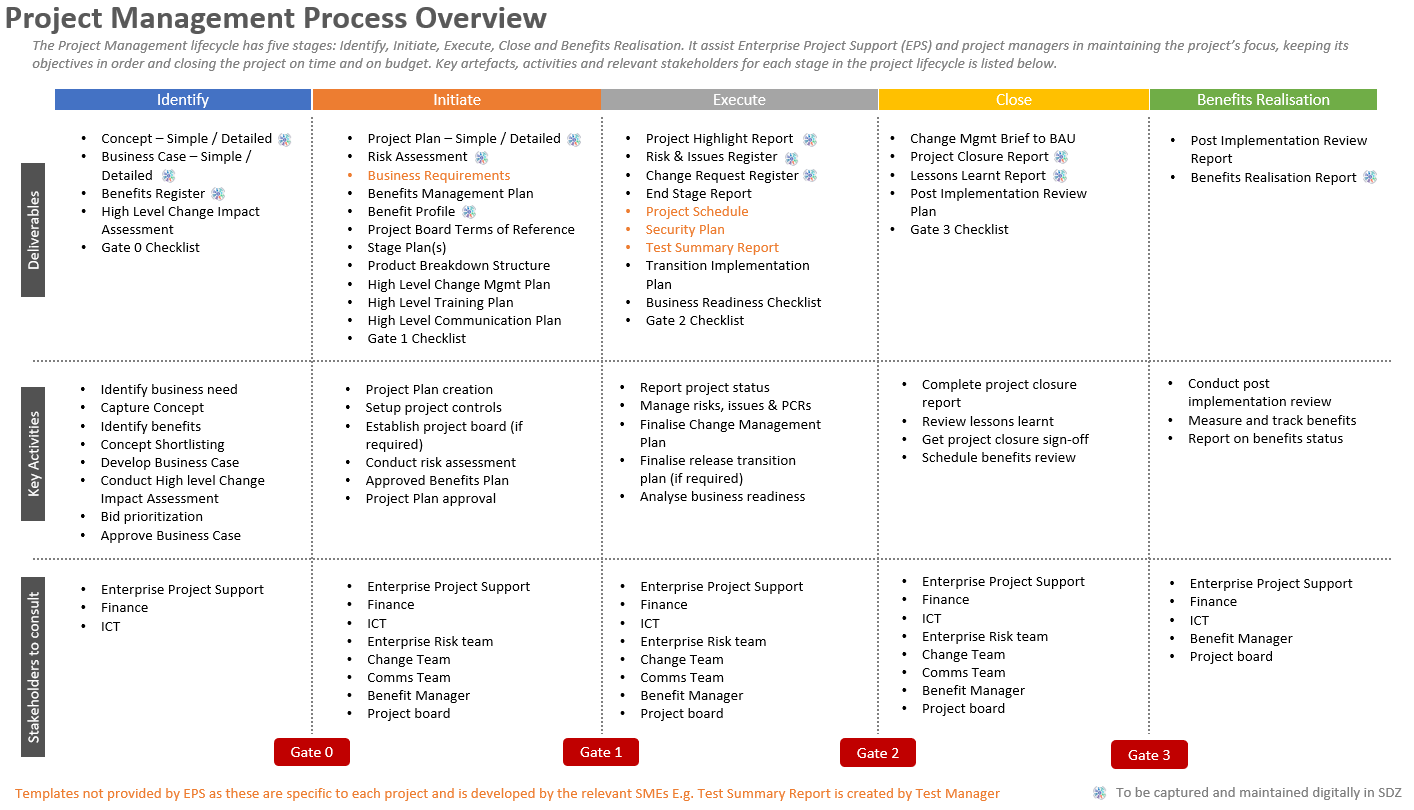 For more information view the interactive project management lifecycle by clicking here.